Di, 2. November Two-Song Tuesday // OPEN MIC //
Mi, 3. November ELIAS STEMESEDER "Serpenti a Sonagli"
Do, 4. November Lisbeth Quartett
Fr, 5. November Marie Kruttli Trio
Sa, 6. November Tenor Madness #1

…..2G: show vaccination/recovery document to get inside (no tests).
………Concerts: 10 Euros or more.
……………We started the Donau115 Musician Fund.
…………………The bar accepts card payments now.
………………………More info below.
// // // // //
Di, 2. November
Two-Song Tuesday // OPEN MIC //
///// TWO-SONG TUESDAY /////
[sign up 19:00 // start 20:00]
[CORONA SAFETY MEASURE: please bring your own microphone if you have one.]
Calling all songwriters!
Calling all composers and instrumentalists and synth wizards!
Calling all poets and writers and storytellers!
Do you have new solo or duo material you're itching to present? Join us for Donau115's regular open stage series, Two-Song Tuesdays.
Your set may include TWO SONGS or last TEN MINUTES.
"How do I get booked?"
// Just show up
// There is no pre-booking
// Sign up opens at 19:00 (first come, first booked)
// The first performer will begin at 20:30
// No soundcheck – so be ready. Slip on, blow minds, slip off.
"What can I play?"
This is entirely up to you. Out of respect for our neighbours:
– you may NOT use loud percussion and loud bass-heavy signals into the PA.
– you are welcome to use our backline, which includes:
— piano
— generic vocal microphones
— PA, accepting guitar/XLR cables
"Anything else?"
Donau115 is a very fun but weird musician's musician kind of bar, come expecting oddballs.
FURTHER QUESTIONS?
info@donau115.de
_______
Mi, 3. November
ELIAS STEMESEDER "Serpenti a Sonagli"
Eldar Tsalikov – saxophones
Elias Stemeseder – piano
Igor Spallati – double bass
Ugo Alunni – drums
Serpenti a Sonagli is a collective ensemble featuring four protagonists of Berlin's creative music community. Drawing inspiration from a wide variety of musical idioms, their music synthesizes these heterogenous influences to create a sound between groundedness and fluctuation. Aware of the reciprocity of tradition and innovation, the quartet navigates polyrhythmic structures, songforms, timbral explorations, folkloric elements, and – of course – the blues, with the elegance and viciousness of a serpente a sonagli. The first reunion of this group after almost three years will feature some new compositions and newly revisited older ones (some of which can be seen/heard here:

https://youtu.be/CbIAqEROwlc,
https://soundcloud.com/…/rhythm-piece-2-erdapfelteig…).
www.eliasstemeseder.com
https://youtu.be/AtNZNVCR7Zo

ELIAS STEMESEDER
Berlin and New York based musician working in a wide-ranging variety of musical idioms. Born near Salzburg, Austria in 1990, he studied at Anton Bruckner Conservatory in Linz and at UdK Berlin. Present, past and future musical collaborators include John Zorn, Jim Black, Greg Cohen, Anna Webber, Thomas Morgan, Laurie Anderson, Mat Maneri, Joey Baron, Billy Mintz and Nels Cline. Elias has been featured as a pianist and/or composer at Umbria Jazz, Winter Jazz and Moers festivals, and at concert venues such as The Village Vanguard, Konzerthaus Berlin and Haus der Berliner Festspiele. He has received grants and scholarships from SKE/austro mechana, Bundeskanzleramt Österreich and UdK Berlin.

ELDAR TSALIKOV
Born in 1993 in Rostov-on-Don, Russia into a musicians family. At the age of eight Eldar began learning saxophone at the Kim Nazaretov Children's Jazz School, eventually picking up piano and flute as well. After ten years of studying classical and jazz repertoire he graduated in 2011, after which he moved to Berlin in order to continue his studies at the Jazz Institut Berlin. During his time at the institute, Eldar discovered his big love for clarinet and it's sound, which lead him to embrace it as his 'second main' instrument. In 2018 Eldar graduated receiving his bachelor- and master's degrees.
Since the beginning of his artistic life in Berlin, Eldar has been not only working on his performative skills in jazz music and it's numerous subgenres, but also expanding his knowledge of various folk music traditions from around the world (e.g. Turkish, Greek, Balkan, Arabic, Hindustani, Carnatic). While developing his own style of playing, he got to collaborate with numerous European and Western performers of various kinds, most notably Greg Cohen, Joey Baron, Laurie Anderson, Eyvind Kang, Marcin Masecki, Manlio Maresca, Tobias Delius, Elias Stemeseder, Anna Webber. With those and many other artists, Eldar got to travel around different countries, performing in worldwide recognised venues and concert halls such as «Birdland» (New York / USA), «Elbphilharmonie» (Hamburg, Germany), «Konzerthaus Berlin» (Berlin, Germany), «TivoliVredenburg» (Utrecht, Netherlands), as well as taking part in festivals such as «Copenhagen Jazz Fest» (Denmark), «Ascona Jazz Fest» (Switzerland), «French Quarter Fest» (New Orleans / USA), «Glasgow Jazz Festival» (Scotland).

IGOR SPALLATI
After completing his classical double bass studies in Italy with Silvio Bruni and Francesco Petracchi, he moved to Berlin to study the " Jazz Institut " with Greg Cohen, John Hollenbeck and Kurt Rosenwinkel .
Among others, He has worked with: Nasheet Waits, Ambrose Akinmusire, Joe Chambers, Billy Hart, Fred Hersch, Gregory Porter, David Russel, Brad Shepik, David Gilmore, Pietro Tonolo, HR Big Band, Gabriele Mirabassi, Mike Richmond, Joe Hisaishi.

UGO ALUNNI
Ugo Alunni is a drummer from Perugia, Italy. He attended the Conservatorio di Musica "Francesco Morlacchi" di Perugia (2000-2004) after which he moved to New York for further studies at the Collective School of Music (2005-2006). He has been living in Berlin since 2010 where he studied at the Jazz Institut Berlin under the guidance of John Hollenbeck, Greg Cohen, Kurt Rosenwinkel and David Friedman, graduating in 2016. He has played with Rossano Emili, Perugia Jazz Orchestra, Pietro Tonolo, Joe Chambers, Alessandro Lanzoni, Elias Stemeseder, Marcin Masecki, Tarek Yamani and many others.

Photo by Dovile Sermokas

_______
Do, 4. November
Lisbeth Quartett
Charlotte Greve – saxofon
Manuel Schmiedel – piano
Marc Muellbauer – bass
Moritz Baumgärtner – drums
Lisbeth Quartett There Is Only Make
2009 gegründet, seit 2012 paritätisch auf Berlin und New York verteilt, wurde das Lisbeth Quartett für seine zweite CD Constant Travellers mit einem Jazz-Echo als Newcomer des Jahres ausgezeichnet. Der Nachfolger Framed Frequencies (01/2014) erhielt auch international viel Lob, das folgende Live-Album dokumentierte die Spiel- und Improvisationsfreude der Band auf der Bühne.
Am 27. Oktober 2017 erscheint There Is Only Make. "Das neue Album ist mehr aus dem Bandprozess heraus entstanden als unsere früheren Studioproduktionen. Vor den Aufnahmen haben wir die Stücke in vielen Konzerten gemeinsam ausformuliert", sagt Bandleaderin Charlotte Greve. Sie vergleicht den Prozess mit einem Maler, der nach und nach Details und Tiefe seines Bildes entwickelt. Das Ergebnis sind vielschichtige Stücke, die zwischen ruhigen Passagen und kräftigen Steigerungen oszillieren. Melodische Bögen und klare Formen, subtiles Zusammenspiel und moderne Haltung zeigen Gestaltungswillen und Charakter. Greves hintergründige, teils lyrische Kompositionen sind im besten Sinne zeitlos, vereinen Tiefgang, unaufdringliche Leichtigkeit und weite Spannungsbögen.
Natürlich steht Charlotte Greves Alt-Saxophon im Zentrum. Ihr leuchtender, schwebender Ton, die klaren bis verschlungenen Modulationen werden von ihren profilierten Partnern beflügelt. Marc Muellbauers distinguierte Basslinien sind viel mehr als nur Grundierung, Pianist Manuel Schmiedel kreiert phantasievolle Panoramen und Soli, Moritz Baumgärtners unkonventionelles, klangvoll-dynamisches Schlagzeugspiel befeuert rhythmische Finessen. Aus all dem entsteht der innige, pointierte Sound des Lisbeth Quartetts.
www.charlottegreve.de
https://www.youtube.com/watch?v=hiO6if9J_1Y&t=2s
_______
Fr, 5. November
Marie Kruttli Trio
Marie Kruttli: piano, composition
Lukas Traxel: upright bass
Philip Dornbusch: drums
The Marie Kruttli Trio inspires, vivid, fresh, brilliant and audacious. The swiss pianist creates with a sophisticated and personal language. a deep rhythmical and harmonic research.Thanks to the interpretation of the trio, full of lightness and groove, this music speaks to the body and the heart. With a mature sound, a special aesthetic and a bewitching virtuosity, the three musicians deliver a highly pertinent music. No hipster minimalism, no irony but clear and powerful ideas. Kruttli's playing impresses at every level, delivering with defined ease, complex rhythms, colourful harmonics and overlapping tones. She navigates her band through a mysterious, soulful musical landscape.
mariekruttli.com
https://www.youtube.com/watch?v=BH7xPNqkYd0
https://www.youtube.com/watch?v=QCsI8GkvBvw&t=1563s
______
Sa, 6. November 
Tenor Madness #1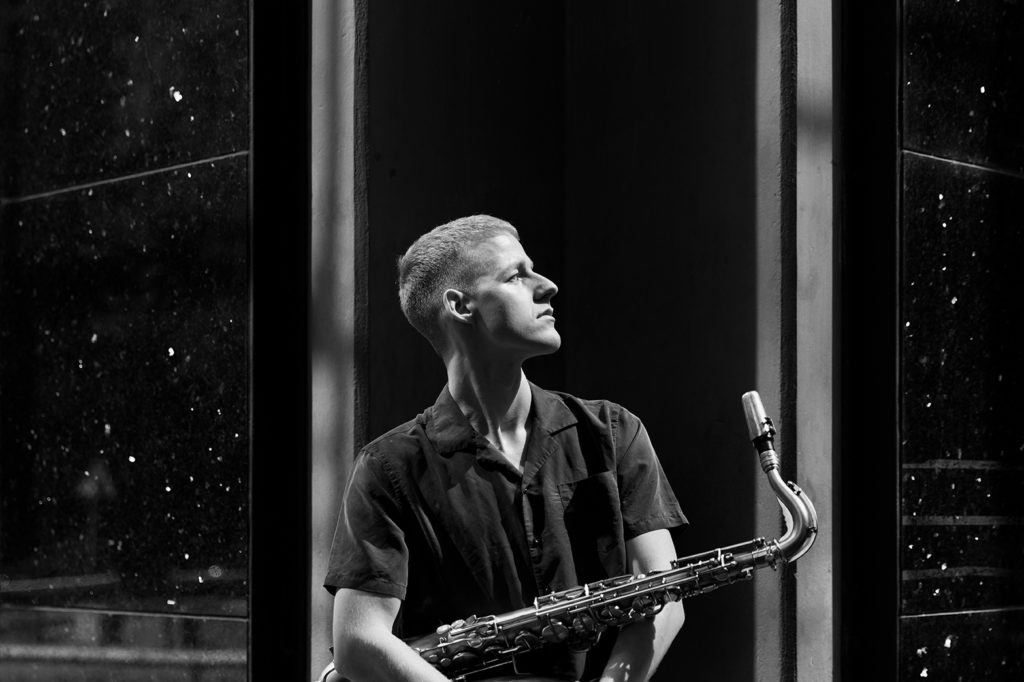 Seamus Blake – tenor saxophone
Anna Tsombanis – tenor saxophone
Uli Kempendorff – tenor saxophone
Fabian Willmann – tenor saxophone
Robert Lucaciu – bass
Eva Klesse – drums
How many tenor saxophones can you fit in one band?
Well, four for now.
1st edition of hopefully many summits of tenor players from around the world meeting in Berlin, hosted by Fabian Willmann & featuring Seamus Blake.
Playing music by modern minimal music- as well as jazz-composers and Fabian.
// // // // //

OPENING HOURS:
TUES-SUN 18:00 – ??
We do not have a reservation system – show up early enough to get a seat! // // // // //
Plague Fun: Corona Rules

Case numbers are low, but the bug's still around so we will be taking many measures to make sure we're all doing our part to end the pandemic once and for all.

Since September 18th we implement the so called 2G-rule at Donau115. This means only people with full vaccination or recovered people can come inside (2G = geimpft/genesen = vaccinated/recovered).

1: OUTSIDE: contact tracing – To join us outside, you must provide contact tracing information. We will keep this information safe for the required amount of time and destroy it with fire once that time has ellapsed.

2: INSIDE: vaccinated or recovered (a test is not enough) – To join us inside, you must provide contact tracing information as above. Additionally, you must provide proof of full vaccination or recovery, without exception. You cannot get in with a test (neither "Schnelltest" nor PCR-Test). Once you're inside you don't have to wear a mask anymore or keep minimum distance. Standing at the bar is also allowed again.

3: BE PATIENT AND FLEXIBLE- These rules are subject to change. We follow the directions of the Berlin Senate and when they provide new guidelines we will follow those. Always check the FB event or the website prior to coming to the concert to make sure you're prepared for any government limitations that may have been imposed since last time you checked.

Eintritts-Kanne + Donau115 Musician Fund

ENTRITTS-KANNE
Please contribute 10 EURO OR MORE to the Eintritts-Kanne. That's your entry fee. Each night's musicians receive 100% of this hard-earned money.

DONAU115 MUSICIAN FUND
The Donau115 Musician Fund boosts the Eintritts-Kanne when nightly collections are too low. Consider a monthly contribution to support economic stability for musicians who perform here. All contributors will receive an annual secret surprise, exclusively for contributors.

PAYPAL:
donau115@gmail.com

IBAN:
Donau115 – Alt von Harbou Matheny GbR
IBAN DE64100400000655707800
Subject: Solidarity ____
(Include your email address in place of the ___ to receive informaiton about the annual secret surprise.)


We Now Accept Card Payments

We now accept credit cards. If you're out of cash, just tell our staff and we'll run your card for you, no minimum, no fee. #DeutscheDigitalisierung
WAS DEMNÄCHST PASSIERT

Di, 9. November Two-Song Tuesday // OPEN MIC //
Mi, 10. November REICH/PRINGLE/BAUMGÄRTNER
Do, 11. November Manko
Fr, 12. November Jo
Sa, 13. November inEvitable
So, 14. November Lit vol. 4