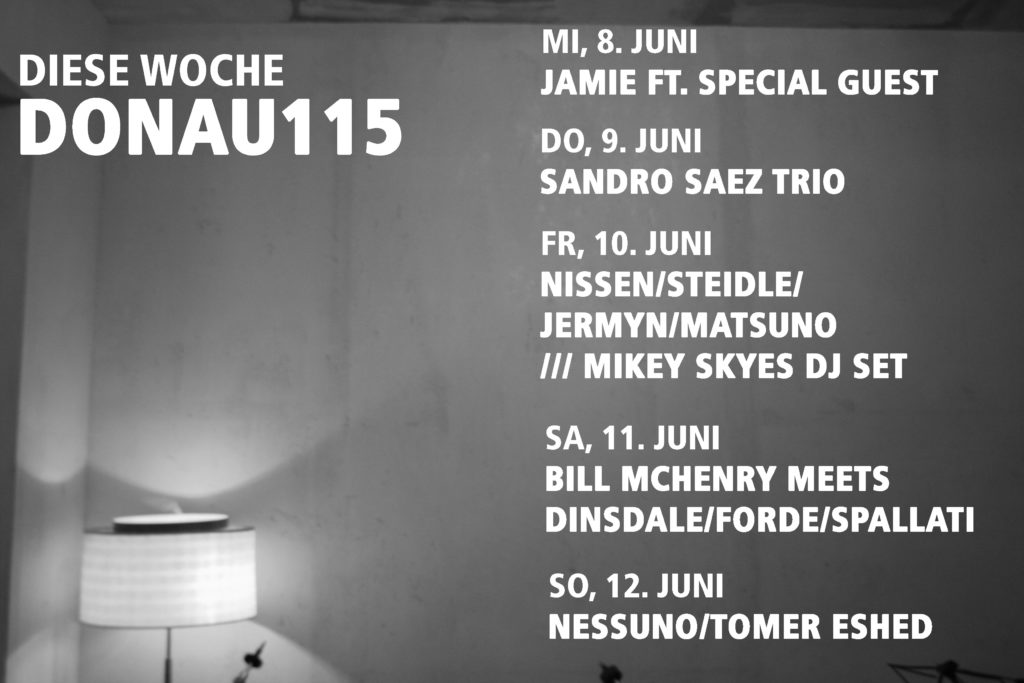 Mi, 8. Juni JAMIE ft. special guest
Do, 9. Juni Sandro Sáez Trio
Fr, 10. Juni Nissen/Steidle/Jermyn/Matsuno
               ////// Mikey Sykes (Zukunft, Loophole) DJ Set
Sa, 11. Juni Bill McHenry meets the Doug Weiss Berlin Band
So, 12. Juni TBA
………Concerts: 10 Euros or more.
……………We started the Donau115 Musician Fund.
………………….More info below.
Mi, 8. Juni
JAMIE ft. special guest
JAMIE is a Duo. JAMIE are Sofia and Sophie.
They've met in Berlin for the first time in 2013 and soon started playing together.
After a gap of nearly six years living in different cities, they reunited and decided to finally form a duo, based on their enthusiasm for the same songs and sounds.
Working on some favorites and originals, playing around with improvisation and the simplicity of a beautiful melody – all in the spectrum of just bass and voice.
Sofia Eftychidou (bass)
Sophie Lindmüller (vocals,efx)
very special guest joining in for a couple of songs:
Arne Braun on the guitar !
https://www.sophielindmueller.com/jamiehttps://jamieduoofficial.bandcamp.com/releaseshttps://open.spotify.com/album/3nRRXzHjcysDtks5BCpxAK…

_______


Do, 9. Juni 
Sandro Sáez Trio


"Das Sandro Sáez Trio spielt Musik des gleichnamigen Bandleaders und Komponisten.
Mit seinen Stücken geht er auf Entdeckung nach den Grenzen konventioneller Harmonik, und entwickelt originelle Formen, um ungewohnte dramaturgische Bögen zu spannen – mit dem Hintergrund der Jazztradition.
Doch auch freie Improvisationen finden ihren Platz und sind Teil der Kompositionen. So gelingt es ihm und seinen Mitspielern, dass jedes Konzert einzigartig wird."

Sandro Sáez – piano
Niklas Lukassen – bass
Nathan Ott – drums

https://youtu.be/z20PZYVqdnc
https://youtu.be/4tF8wG1EL1I


_______


Fr, 10. Juni 

////// Mikey Sykes (Zukunft, Loophole) DJ Set


Thursday Club will present several songs they wrote and recordeded during the plague summers of '20 and '21 and pass out download codes for the EP.


_______


Sa, 11. Juni 
Bill McHenry meets the Doug Weiss Berlin Band




_______


So, 12. Juni 
TBA

// // // // //

OPENING HOURS:
TUES-SUN 18:00 – ??
We do not have a reservation system – show up early enough to get a seat! // // // // //

Eintritts-Kanne + Donau115 Musician Fund

ENTRITTS-KANNE
Please contribute 10 EURO OR MORE to the Eintritts-Kanne. That's your entry fee. Each night's musicians receive 100% of this hard-earned money.

DONAU115 MUSICIAN FUND
The Donau115 Musician Fund boosts the Eintritts-Kanne when nightly collections are too low. Consider a monthly contribution to support economic stability for musicians who perform here. All contributors will receive an annual secret surprise, exclusively for contributors.

PAYPAL:
donau115@gmail.com

IBAN:
Donau115 – Alt von Harbou Matheny GbR
IBAN DE64100400000655707800
Subject: Solidarity ____
(Include your email address in place of the ___ to receive informaiton about the annual secret surprise.)


We Now Accept Card Payments

We now accept credit cards. If you're out of cash, just tell our staff and we'll run your card for you, no minimum, no fee. #DeutscheDigitalisierung

WAS DEMNÄCHST PASSIERT

Di, 14. JuniTwo-Song Tuesday // OPEN MIC //
Mi, 15. Juni Marie Kruttli Trio
Do, 16. Juni Jacobson/Drnek/Lukassen/Somos
Fr, 17. Juni Roger Kintopf / STRUCTUCTURE
////// Alexander Winkelmann DJ Set
Sa, 18. Juni Jonas Engel OWN YOUR BONES
So, 19. Juni Linus Eppinger Quartet