Di, 9. November Two-Song Tuesday // OPEN MIC //
Mi, 10. November REICH/PRINGLE/BAUMGÄRTNER
Do, 11. November Manko
Fr, 12. November Jo
Sa, 13. November inEvitable
So, 14. November Lit vol. 4

…..2G: show vaccination/recovery document to get inside (no tests).
………Concerts: 10 Euros or more.
……………We started the Donau115 Musician Fund.
…………………The bar accepts card payments now.
………………………More info below.
// // // // //
Di, 9. November
Two-Song Tuesday // OPEN MIC //
///// TWO-SONG TUESDAY /////
[sign up 19:00 // start 20:00]
[CORONA SAFETY MEASURE: please bring your own microphone if you have one.]
Calling all songwriters!
Calling all composers and instrumentalists and synth wizards!
Calling all poets and writers and storytellers!
Do you have new solo or duo material you're itching to present? Join us for Donau115's regular open stage series, Two-Song Tuesdays.
Your set may include TWO SONGS or last TEN MINUTES.
"How do I get booked?"
// Just show up
// There is no pre-booking
// Sign up opens at 19:00 (first come, first booked)
// The first performer will begin at 20:30
// No soundcheck – so be ready. Slip on, blow minds, slip off.
"What can I play?"
This is entirely up to you. Out of respect for our neighbours:
– you may NOT use loud percussion and loud bass-heavy signals into the PA.
– you are welcome to use our backline, which includes:
— piano
— generic vocal microphones
— PA, accepting guitar/XLR cables
"Anything else?"
Donau115 is a very fun but weird musician's musician kind of bar, come expecting oddballs.
FURTHER QUESTIONS?
info@donau115.de
_______
Mi, 10. November
REICH/PRINGLE/BAUMGÄRTNER
Maria Reich – violine
Mark Pringle – p / synth
Moritz BAumgärtner – drums
Zu dritt
Räume öffnen
Frakturen freilegen
und mit Schallwellen fluten
Zwischenwelten einschmelzen
und Neuronen spiegeln
wach mischen
und abperlen lassen
Dumpfes, Leises
finden
mit Schwerkraft
gemeinsam
Rundes formen
Zusammenklingen
bis sich Fliehkraft durchsetzt
in gleißende, helle
Höhen dispersieren
rasende
Kleintod-Momente
Kleinod-Fragmente
den Faden
verlieren,
anknüpfen, aufspannen
freifliegen
-Maria Reich

https://www.marytherichest.com
https://www.markpringlemusic.com
http://moritzbaumgaertner.de
Foto by Gabriel Carlson
_______
Asger Uttrup Nissen – alt
Otis Sandsjö – tenor
Alexander Rueß – guitar
Robert Lucaciu – bass
Florian Lauer – drums
SCHWEBEN IN REALITÄTEN ZWISCHEN URBANITÄT UND DEM DRANG ZUR NATÜRLICHKEIT, ZWISCHEN TECHNOLOGIE UND HUMANEN KRISEN, DA STELLT SICH DIE FRAGE: WAS IST EIGENTLICH NOCH ECHT – BIST DU ECHT? BIN ICH ECHT? WIE KANN ICH ICH SEIN? WAS FÜHLE ICH, WÄHREND DER POST-URBANE RAUM, DER MICH UMGIBT, SICH KONSTANT VERÄNDERT? DIE GRENZEN ZWISCHEN DIGITALEM RAUM UND DEM HIER UND JETZT VERSCHWIMMEN, WÄHREND ICH NACH HALT SUCHE.
Diese Fragen erforscht das Bandprojekt MANKO und verbindet damit seine im experimentellen Jazz verwurzelte Klangsprache mit Fragen von höchster Aktualität. Zielsetzung ist dabei immer die künstlerische Relevanz durch musikalische Tiefe im Kontext der heutigen Zeit.
Das Projekt Manko spielt regelmäßig seit 2018. Nach Konzerten auf der Jazz Baltica, dem Trave Jazz Festival oder FatJazz Hamburg veröffentlichten sie im Juni 2021 ihr Debüt mit ihrem Haus und Hof Produzenten Petter Eldh. Der neuartige Sound verbindet elektro-urbane Beats und die Ehrlichkeit eines akustisch gespieltem Instruments. Die Bandmitglieder sind keineswegs Unbekannte auf der internationalen Bühne; so hört man sie auch in Formationen wie "Y-Otis", "Koma Saxo", "Zur Schönen Aussicht", "Jim Black & the Shrimps" und dem "Arne Jansen Trio".

https://youtu.be/B26ODFY6iBo
https://open.spotify.com/track/0odRJEPXhQZ1pSXkXwqKQO…
https://soundcloud.com/…/kaputte…/s-NRU3BobZrqZ…
_______
Matthew Halpin Tenorsaxophon
Andreas Wahl – E-Gitarre / Akustikgitarre
Felix Elsner – Klavier
Jo Beyer – Schlagzeug
Schreibe deine Lieblingsmusik, finde deine Lieblingsmusiker, gib dem Ganzen einen Namen und fertig ist die Lieblingsband! Genau das hat der Schlagzeuger Jo Beyer gemacht. Tun was einem gefällt – Das ist die Devise dieser Band und genauso klingt es auch. Kompromissloser Spass mit vertrackt hitverdächtigen Kompositionen, gespielt von einigen der allerfeinsten Improvisatoren des zeitgenössischen Jazz.
https://www.youtube.com/watch?v=EZLJmi9w3hcwww.jobeyer.com/jo.html
_______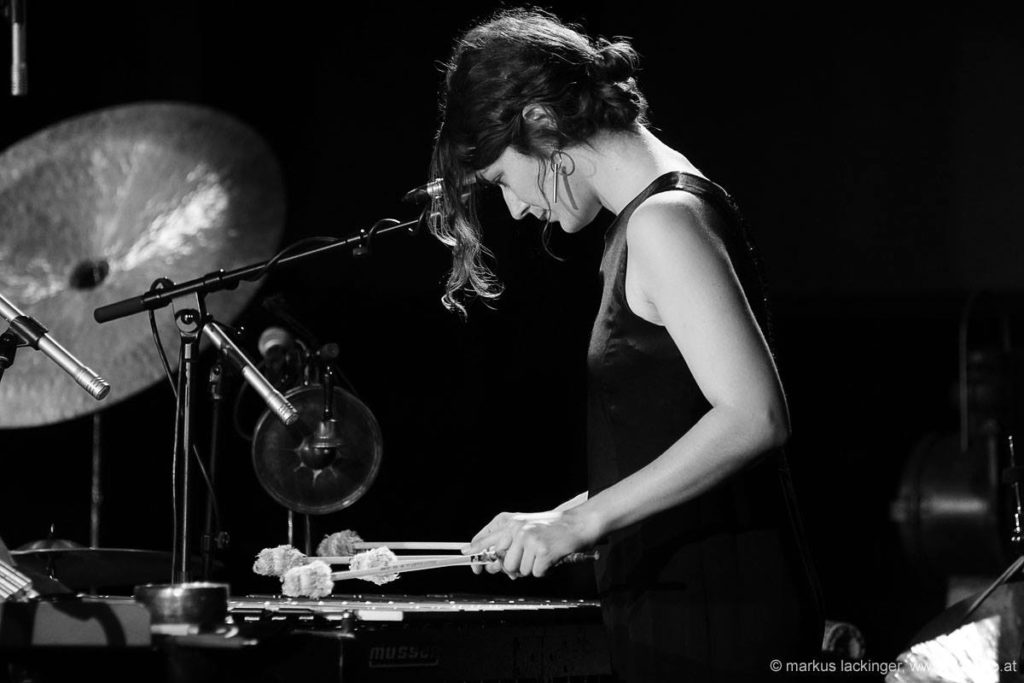 Evi Filippou – vibraphone, percussion, vocals
Arne Braun – guitar
Felix Henkelhausen – bass
Eldar Tsalikov – alto saxophone
Moritz Baumgärtner – drums
EN
Researching the balance in the coexistence of composition and improvisation, precision and authentic personal expression, contemporary music, jazz and greek folk music, greek percussionist Evi Filippou formed the quintet inEvitable.
Greek traditional rhythms, rembetiko melodies from the '20s and reharmonisations of beloved folk songs flirt with the experimental sound of Berlin's jazz scene. The listener enters a microcosmos which resembles at the same time a cabaret, a contemporary music concert, a greek feast and New York in the '60s as Evi imagines it.
DE
Die Koexistenz von zeitgenössischer Musik, Jazz und griechischer Folklore beschäftigt in den letzen Jahren die griechische Perkussionistin Evi Filippou.Mit ihrem Projekt inEvitable geht sie auf die Suche: wie können griechische traditionelle Rhytmen, Rembetiko Melodien aus den 20ern und Reharmonisierungen von beliebten Volksliedern mit Sounds aus der Berliner Improvisations- und Jazz-Szene zusammenspielen? Der Hörer betritt einen Mikrokosmos der gleichzeitig einem Berliner Kabarett,einem zeitgenössischen Musik Ensemble, einem griechischen Fest und Evi's Vorstellung von New York in der 60er Jahren ähnelt.

https://www.youtube.com/watch?v=zP-MSNjLy7I
_______
So, 14. November
Lit vol. 4
maxine troglauer – trombone
vincent bababoutilabo – flute
sofia eftychidou – doublebass
julius windisch – piano
robert lucaciu – doublebass
lit
is a concert series happening every two months at Donau115 in Berlin. it is curated by robert lucaciu & julius windisch. it features different musicians each time. improvised & composed music.
// // // // //

OPENING HOURS:
TUES-SUN 18:00 – ??
We do not have a reservation system – show up early enough to get a seat! // // // // //
Plague Fun: Corona Rules

Case numbers are low, but the bug's still around so we will be taking many measures to make sure we're all doing our part to end the pandemic once and for all.

Since September 18th we implement the so called 2G-rule at Donau115. This means only people with full vaccination or recovered people can come inside (2G = geimpft/genesen = vaccinated/recovered).

1: OUTSIDE: contact tracing – To join us outside, you must provide contact tracing information. We will keep this information safe for the required amount of time and destroy it with fire once that time has ellapsed.

2: INSIDE: vaccinated or recovered (a test is not enough) – To join us inside, you must provide contact tracing information as above. Additionally, you must provide proof of full vaccination or recovery, without exception. You cannot get in with a test (neither "Schnelltest" nor PCR-Test). Once you're inside you don't have to wear a mask anymore or keep minimum distance. Standing at the bar is also allowed again.

3: BE PATIENT AND FLEXIBLE- These rules are subject to change. We follow the directions of the Berlin Senate and when they provide new guidelines we will follow those. Always check the FB event or the website prior to coming to the concert to make sure you're prepared for any government limitations that may have been imposed since last time you checked.

Eintritts-Kanne + Donau115 Musician Fund

ENTRITTS-KANNE
Please contribute 10 EURO OR MORE to the Eintritts-Kanne. That's your entry fee. Each night's musicians receive 100% of this hard-earned money.

DONAU115 MUSICIAN FUND
The Donau115 Musician Fund boosts the Eintritts-Kanne when nightly collections are too low. Consider a monthly contribution to support economic stability for musicians who perform here. All contributors will receive an annual secret surprise, exclusively for contributors.

PAYPAL:
donau115@gmail.com

IBAN:
Donau115 – Alt von Harbou Matheny GbR
IBAN DE64100400000655707800
Subject: Solidarity ____
(Include your email address in place of the ___ to receive informaiton about the annual secret surprise.)


We Now Accept Card Payments

We now accept credit cards. If you're out of cash, just tell our staff and we'll run your card for you, no minimum, no fee. #DeutscheDigitalisierung
WAS DEMNÄCHST PASSIERT

Di, 16. November Two-Song Tuesday // OPEN MIC //
Mi, 17. November Timo Vollbrecht FLY MAGIC (New York/Berlin/Seoul)
Do, 18. November Hammers & Plectrums// Jason Oberman
Fr, 19. November Stereo Heart
Sa, 20. November Malstrom
So, 21. November My Sister Grenadine