Di, 5. Juli Two-Song Tuesday
JAZZWOCHE BERLIN #4:
Mi, 6. Juli Roz Macdonald Trio (Album Release Concert)
Do, 7. Juli Eleven
Fr, 8. Juli Janoušek-Wróblewski Quartet
Sa, 9. Juli Donau Conversations feat. Kraef / Gincel / Berkmann / Ruppnig
So, 10. Juli QUEER CHEER Vol. 1 – community for "jazz" and improvised music
………Concerts: 10 Euros or more.
……………We started the Donau115 Musician Fund.
………………….More info below.
Di, 5. Juli
Two-Song Tuesday
///// TWO-SONG TUESDAY /////
For Fête de la Musique 2022 we present a special edition of TWO SONG TUESDAY
[sign up 19:00 // start 20:00] PLAY TWO SONGS (or max. 10 minutes) // more details below
+ TINY CONCERTS BY:
EMPEROR X https://emperorx.bandcamp.com/
MISS NÖYD https://linktr.ee/missnoyd
and [tba]
Calling all songwriters!
Calling all composers and instrumentalists and synth wizards!
Calling all poets and writers and storytellers!
Do you have new solo or duo material you're itching to present? Join us for Donau115's regular open stage series, Two-Song Tuesdays.
Your set may include TWO SONGS or last TEN MINUTES.
"How do I get booked?"
// show up at 19:00 to register at the bar
// The first performer will begin at 20:00
// No soundcheck, so be ready. Slip on, blow minds, slip off.
// The host will call you to the stage in a random order. You may not reserve a specific time slot.
// We let as many people play as possible. There is usually time for 12 performers. Some weeks more, some weeks less.
"What can I play?"
This is entirely up to you, but DO NOT PLAY THE SAME SONG OVER AND OVER EVERY WEEK. THIS IS BORING. TRY NEW THINGS.
Also, out of respect for our neighbours:
– you may NOT use loud percussion and loud bass-heavy signals into the PA.
– you are welcome to use our backline, which includes:
— piano
— generic vocal microphones
— PA, accepting guitar/XLR cables
"Anything else?"
Donau115 is a very fun but weird musician's musician kind of bar, come expecting oddballs.
FURTHER QUESTIONS?
info@donau115.de

_______


JAZZWOCHE BERLIN #4:

Mi, 6. Juli
Roz Macdonald Trio (Album Release Concert)


Béla Meinberg – Piano
Roz Macdonald – Bass
Jordan Dinsdale – Drums

This trio formed towards the end of 2020 after Roz received a scholarship from Musikfonds 'Neustart Kultur, which enabled her to write and record her first album. This concert will celebrate the release of this album entitled 'Make Do'
Double bassist and bandleader Roz Macdonald originally comes from Scotland and has been living and establishing herself as a musician in Berlin since 2017. Roz studied jazz at Leeds College of Music where she received the Yamaha Jazz Scholarship for outstanding musicians upon graduating in 2015. Since then she has played around Europe with some of the top renowned jazz musicians in the world including Scott Hamilton, Bruce Barth and Perico Sambeat.

Béla Meinberg is a German pianist, based in Hamburg and Berlin. He has worked with some of the finest jazz musicians around including Billy Hart, Seamus Blake, Matt Penman, Chris Cheek, Doug Weiss and John Stowell. His playing characterises a lyrical approach, always swinging and a good sense of humour.
Jordan Dinsdale is an English Jazz musician hailing from the city of Bradford in the North of England, now residing in Berlin. Jordan has studied with some of the greatest teachers of this music, most notably Jimmy Cobb. Since moving to Berlin, Jordan has recorded a debut trio album with Greg Cohen and Declan Forde, FORDE/COHEN/DINSDALE. Jordan is a member of the Doug Weiss Berlin band, a quartet set to release its debut album soon.

https://www.youtube.com/watch?v=eJQvMzU313s
www.rozmacdonaldmusic.com
https://belameinberg.com/


_______


Do, 7. Juli
Eleven


Nora Jim – keys, vocals
Sébastien Degueldre – bass
Sebastián Rosales Morandé – drums

The band Eleven creates a unique style combining pop music and "dark" rock with alternative jazz. Each song has its own identity, build upon strong melodies, rich sounds and symbolic texts, that leave enough space for one's own interpretation. Eleven was formed in 2020 by the pianist and singer Nora Jim and the bass player Sébastien Degueldre. The duo, originally from Belgium, was joined one year later by the chilean drummer Sebastián Rosales Morandé in Berlin. Eleven has recorded three albums so far: "Dreamer" (2020), "Last Year Again" and "Hot lake" (2021).

https://11eleven11.bandcamp.com
https://open.spotify.com/artist/67p6RJvBZ1cxx6JYGKEorZ
https://www.youtube.com/channel/UC9RhlGgB-_etxjbXMV_s6tQ


_______


Fr, 8. Juli
Janoušek-Wróblewski Quartet


Janoušek-Wróblewski Quartet
Štěpán Janoušek – trombone
Michal Wróblewski – saxophone
Miloš Klápště – double bass
Jan Chalupa – drums

JWQ is acoustic quartet playing original music, combines free improvisation with composed influences of jazz history (new orleans, soul jazz, free-jazz…) and also other genres (surf-rock, reggae, contemporary music, heavy metal, brass music, tango….) During their existence they've played at numerous clubs and festivals in Czech Republic, Poland, Slovakia, Hungary, Austria and Germany.
In October 2021, they've released their second album called Vystresovaný medvídek koala na pokraji sil se náhodně upálí v lesním požáru (The Stressed Out Koala Bear on the Verge of Collapse Randomly Burnt to Death in a Forest Fire). The album is released on Ma Records, and it's available on LP and on bandcamp.

https://marecords.bandcamp.com/…/vystresovan-medv-dek…
https://www.facebook.com/JanousekWroblewskiQuartet


_______


Sa, 9. Juli
Donau Conversations feat. Kraef / Gincel / Berkmann / Ruppnig


Ben Kraef – sax
Uri Gincel – piano
Tom Berkmann – bass
Mathias Ruppnig – drums

Donau Conversations is a monthly concert series presented by Berlin-based drummer Mathias Ruppnig. Each event will feature groups of varying styles and personnel, performing jazz standards, original music or free improvisation.
"For me, Donau115 is a place that allows new musical and personal friendships to form, as well as a place to experiment with innovative musical concepts in front of a respectful and attentive audience."


_______


So, 10. Juli
QUEER CHEER Vol. 1 – community for "jazz" and improvised music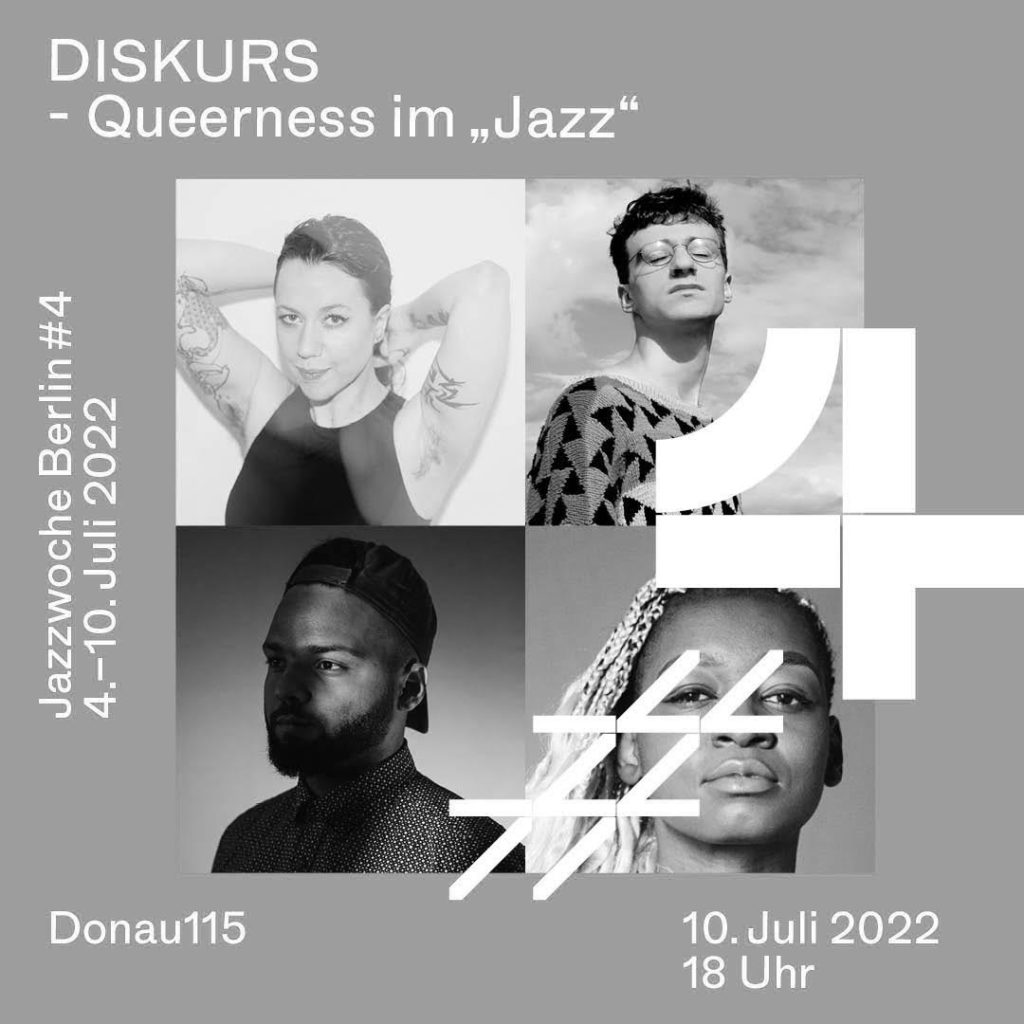 Panel:
Achan Malonda
Vincent Babaoutilabo
Erik Leuthäuser
Friede Merz
tba
tba
Music act:
tba

QUEER CHEER is a young Berlin collective of musicians who are in some way connected to the local jazz scene.
Julia Kadel, Erik Leuthäuser, Friede Merz and Laura Winkler have come together with the desire to build a queer community.
Under the umbrella of the meta-community Future Bloom, which places its work in the service of intersectionality, multiperspectivity and interdisciplinarity, this collective focuses on the exchange of being queer as a "jazz" musician.
Having two ambiguous terms like "queer" and "jazz" at the fulcrums of their work promises to be a particularly inspiring exchange. Which is just another reason to invite incredibly inspiring guests at this kick-off event as part of Berlin Jazz Week #4:

https://mondin.tumblr.com/
https://bababoutilabo.jimdofree.com/
https://juliakadel.com/
https://erik-leuthaeuser.de/
https://friedemerzmusic.com/
https://laurawinkler.com/
// // // // //

OPENING HOURS:
TUES-SUN 18:00 – ??
We do not have a reservation system – show up early enough to get a seat! // // // // //

Eintritts-Kanne + Donau115 Musician Fund

ENTRITTS-KANNE
Please contribute 10 EURO OR MORE to the Eintritts-Kanne. That's your entry fee. Each night's musicians receive 100% of this hard-earned money.

DONAU115 MUSICIAN FUND
The Donau115 Musician Fund boosts the Eintritts-Kanne when nightly collections are too low. Consider a monthly contribution to support economic stability for musicians who perform here. All contributors will receive an annual secret surprise, exclusively for contributors.

PAYPAL:
donau115@gmail.com

IBAN:
Donau115 – Alt von Harbou Matheny GbR
IBAN DE64100400000655707800
Subject: Solidarity ____
(Include your email address in place of the ___ to receive informaiton about the annual secret surprise.)


We Now Accept Card Payments

We now accept credit cards. If you're out of cash, just tell our staff and we'll run your card for you, no minimum, no fee. #DeutscheDigitalisierung

WAS DEMNÄCHST PASSIERT

Di, 12. Juli Two-Song Tuesday
Mi, 13. Juli Antje Rößeler Berlin
Do, 14. Juli Vincent Niessen 4
Fr, 15. Juli Michel Schroeder Quintet
//// Anemone DJ Set
Sa, 16. Juli TBA
So, 17. Juli TBA